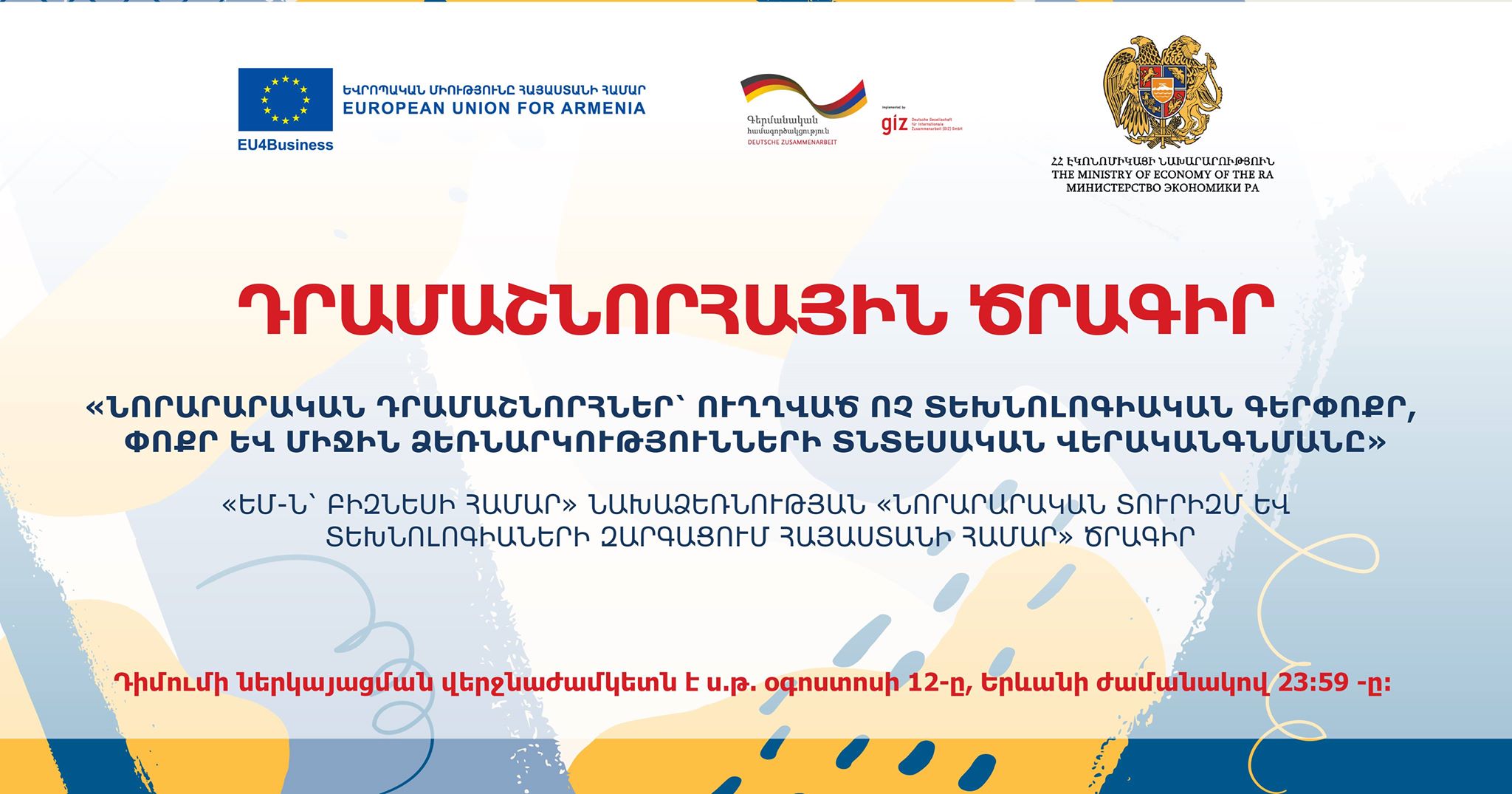 Call for Proposals
EU4Business "Innovative Tourism and Technology Development for Armenia"
"Innovation for Economic Recovery for Non-technological Micro, Small and Medium Size Companies" Grants
The Call
Are you a Micro, Small or Medium Size non-technological Company in the fields of production and services (tourism, technology, agriculture and trade sectors are excluded!) and looking for funding resources related to Economic Recovery caused by COVID-19? The EU4Business "Innovative Tourism and Technology Development for Armenia" project, in close cooperation with Ministry of Economy of Republic of Armenia invites you to participate in a Grant Programme "Innovation for Economic Recovery for Micro, Small and Medium Size Companies".
The EU4Business "Innovative Tourism and Technology Development for Armenia" is co-funded by the European Union and the German Federal Ministry for Economic Cooperation and Development (BMZ) and is being implemented by German Development Cooperation GIZ under the umbrella of the Private Sector Development and TVET South Caucasus Programme.
For more details and complete information about the call see the Applicants' Manual.
Who can Apply
This call is open for applicants from all over Armenia. Proposals containing activities aiming at (at least one of the followings):
Innovative products/business models
Innovative technology for business product/service delivery
Optimising business management system
Logistics and hygiene
Tech solutions for access to markets and networks (digital marketing; e-commerce)
How to Apply
If you are interested, please submit your application package in accordance with GIZ submission requirements described in the Applicants' Manual.
The application package should include
Project Description Submission Form
Budget Submission Form
CVs of the project team members demonstrating competency and experience relevant to execution on the proposed project
Company's registration letter (Scan of the original registration letter)

The Applicants' Manual and relevant templates can be downloaded here
Applicants' Manual (.pdf)
Annex 1_ Project Description Submission Form (.doc)
Annex 2_ Budget Submission Form (.xls)

The budget must be submitted in AMD. Based on the Decision of the RA Governance Nr. 1112-Ն of 23.09.2009 GIZ is VAT exempted. The budget should be submitted without VAT.
Questions related the Call may be sent by e-mail during the time period of 31 July – 7 Aug, 2020 to the address listed below, indicating clearly the name of the call for proposals. After the deadline for Q&A, all questions and answers will be compiled and published for the interested applicants.
The complete application package should be sent by email to tech@tourismtech.am.
Deadline for application submission is August 12, 2020, 23:59 Yerevan Time.